What is It?
Quite simply, the most advanced iPhone application ever! Imagine a tool in the palm of your hand that manages your schedule, identifies non-compliant construction, teaches you about best practices, shares high-res photos with your homeowners, and tracks quality every step of the way. InSite Mobile™ puts the power of Quality and Control into the palm of your hand, and gives you Big Builder Tools at an affordable price–with no I.T. infrastructure investment whatsoever!
Check out these great InSite Mobile™ features: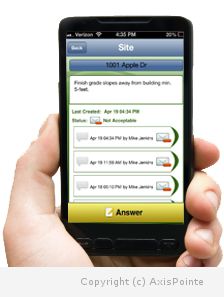 A simple yet powerful project scheduler–updated in real time
Template-driven to quickly set up new homes in seconds
Get Started in a snap by using our Pre-defined Task Templates and over 5,000 proven Quality Checkpoints on risk, safety and storm water management
Unlimited tasks and checkpoints per home or project
Vendors can use any smart phone device to instantly close out any non-compliant issue
Vendors can submit photos to prove their work has been corrected, and you see it instantly in your app
Powerful Expert OnLine™ feature connects you to AxisPointe's professionals for instant resolution of a problem—in seconds
Integrate all vendors, QA inspectors and consultants on the same platform
Verify photo integrity via GPS and auto time stamping
Continuously improve your quality and qualify for insurance reductions and other incentives
Real-time data and trending reports to track results
Measure your trade partners' performance on every home
Save thousands of dollars by reducing or eliminating traditional third-party QA spot inspections
Share photos instantly with your customers–they see their home being built
Promote learning by using required or optional checkpoints
Our Quick-Start program launches your entire QA platform in less than 5 minutes
Deliver consistently higher quality, lower cost and energy-saving homes
The InSite Mobile™ iPhone application is advanced, but is so easy to use. Since everything operates on our dedicated network of Cloud-based servers and co-locations you never have to worry about computer hardware or archiving. All you need is a computer connected to the internet, and an iPhone4 or iPad in the field and you are ready to go!
Start out in minutes by simply using one of AxisPointe's pre-approved construction templates and checkpoints, or customize your mobile app to suit your needs and specific business practices. Whether your company is battling job site chaos, or you have a well defined and smooth running operation, we guarantee that you will enjoy a positive ROI or your money back!

For a trial view, please contact us at (866) 859-3125
* Only users assigned with a user name and password may access the application.