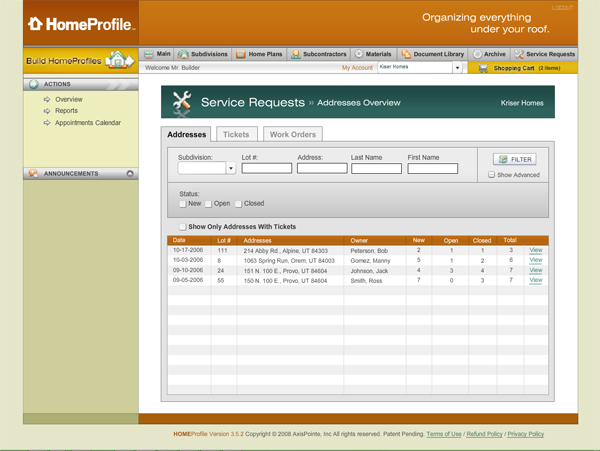 ---
Imagine a day where your customers go online to file a customer service request, and are stepped through a series of questions that they answer to 'qualify' their request and eliminate the common false alarms common with homeowners. Now imagine your customer service team answering and responding to each request consistently and accurately, and keeping an electronic accounting of every phone call, web request and action. With AxisPointe, the future is now!
With AxisPointe, our Customer Service Portal guides the user at every step, ensuring that their home is under warranty and their claims are valid. AxisPointe's Knowledge-base portal professionally guides the user through a series of questions to ensure that the claim is actionable, which reduces false alarms and added costs for homeowner-caused issues. Simple and common problems such as a tripped GFCI circuit educate the owner to self-diagnose problems and solve common issues on their own, which helps solve simple problems quickly and at no cost to the builder.
When an actionable claim is registered, AxisPointe's Service Portal allows you to view each request, respond to the homeowner, schedule a meeting, or create a Work Order for one or more vendors—all electronically and with just a few clicks! Builders love our Service Portal to help deliver top-notch Customer Service without the costly overhead, allowing you more time to focus on your business. Let the AxisPointe Customer Service experts show you how we can transform your Customer Service challenges into an efficient and cost-saving service that your homeowners will love and appreciate!
Call AxisPointe now to see your next Customer Service System in action! 866-859-3125